Mom, this page is especially for you. I don't have it linked to any other pages on the website. I have only sent this location to you. I thought you might like to see the following pictures. I love you very much and pray that you are living every day under God's grace. xoxoxoxooxoxoxooxox- your man child.

Your two favorite men

All of your boys

You and us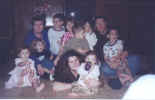 You and your grandbabies (and Jessica and Alana and Dad)

One of the most genuine smiles I've ever seen on your face. I treasure this shot.
Let me know if you want me to keep this page up. I reserve the right to show these pics to others, but I wanted you to see them first. (just got them developed today)
NEW PICTURES JUST FOR YOU!!!!
Added May 8, 2002 (they're clickable if you want a bigger version)

Here is MH at the OKC Zoo, she LOVES to look at fish! I'm not kidding. Even at Wal-Mart...she cries when we walk by and don't stop to look at them... and then cries when we leave!

There were statues all around the zoo that we posed both MH and Alana on. They are so cute!

Here is MH's zombie look. and the next picture is the view from behind

As I mentioned, they posed with all the statues:)

MH's First WHEE! ride.
and finally, the long walk to the car...

NEW NEW NEW! - here you go, Mom. We took a trip to the Cornfield maze and had some fun and then we had our fall festival at church. I hope they make you smile.

There is a farm with 11 acres dedicated to some maize in which a maze has been cut. We took a group of kids from church to go see it and spent an afternoon there. It was lots of fun.

To keep from getting lost, there were waypoints throughout the maze. Amelia recorded our triumphant arrival at marker two

Mary Hannah loved the pumpkins so much she gave them ALL kisses.... we had to pull her out of the pumpkin patch.
When we got home, she wanted us to mail her to see you. Unfortunately, USPS regulations prohibit shipping precious materials without proper insurance and we couldn't afford it.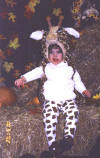 The Mart of Wal helpfully provided inexpensive, high quality and high cuteness factor costumes. With parents both over 6 feet, how could we have anything other than a baby giraffe?
Here is a whole group of kids posing from our fall festival.
As usual, you can click any of the above pictures and be linked to a larger version. I love you, mama.-jeff